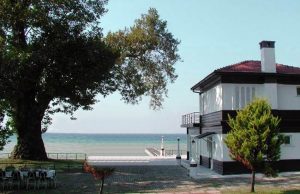 THE WALKING MANSION
When Atatürk goes to his farm  one day, he meets a gardener who is trying to cut branches of the Great Plane tree next to the mansion. He immediately calls the gardener and asks him why. The answer is: ''The tree has leaned against the wall of the mansion.'' Atatürk, who is not satisfied with his reception, gives an order that is impossible even to be considered: "THE TREE WILL NOT BE CUT, THE MANSION SHALL BE MOVED". Responsibility is undertaken by the Science Affairs Roads and Bridge Branch of Municipality of Istanbul. The Chief Engineer Ali Galip Alnar comes to Yalova with his technical staff and starts to work. On August 8, 1930, the land around the building is first dug with great care and reached the basic level of the structure. The tramway from Istanbul is tiled and the rails are inserted under the building structure by working centimeters. It is now time to move the building off the tree by sliding it on the rails.
On a beautiful and warm summer evening, the tree is moved around 4.80 meters under the supervision of The Great Leader Atatürk, his sister Makbule Atadan, Governor Mr. Muhittin , Science Director Mr. Ziya and Cheif Reporter Yunus Nadi. This extraordinary and risky work would be completed on August 10, 1930 and the big Great Plane Tree would be saved from being cut off.
Since then, the name of the mansion has remained "WALKING MANSION". It was restored by the Municipality of Yalova in 2006 and opened to visitors.
Trasnportation
Mansion is 5 min. to the center of Yalova and has an extraordinary view of the coast.
YALOVA CITY FOREST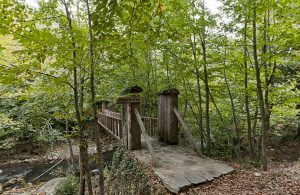 The City Forest was organized and opened for public use in 2005. Yalova City Forest is located in Erikli Plateau, Teşvikiye town. Visitors coming from the direction of Yalova, Çınarcık may use the route of Teşvikiye Armutlu, Gemlik and visitors coming from the direction of Bursa can reach the urban forest from Hayriye, Selimiye villagers and Delmece plateau road which is paved way.  With it's size as big as 5 hectar the City Forest is a unique place where you can experience all the beauties of the city that worth seeing such as various sized waterfalls,  walking path, children playgrounds, sports fields, picnic places, various trees and all kinds of birds.The visitors may enjoy all these beauties free of charge.
Beech, Pine, and Oak are widely distributed in the area where the City Forest is located. There are also few Chestnut, Hornbeam, Maple, Plane, Alder, Linden, Wild Cherry and Wild Plum trees.
This area includes animals and birds such as Bear, Wild Boar, Fox, Squirrel, Lizard, Jackal, Badger, Hedgehog, Rabbit, Turtle, Snake, Pigeon, Quail, Partridge,Woodcock, Hawk, Partridge nd  Woodpecker.
Transportation
29 km from Yalova. The road is completely paved.
TERMAL SPRINGS
Yalova-Thermal and Armutlu Thermal Springs located in Yalova province are the first and most important thermal springs of Turkey. Thermal Hot Springs is located in the center of Thermal district, 12 km away from Yalova city center Thermal Springs are the most regular spa area in Turkey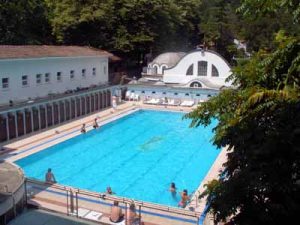 Therapeutic water resources of Termal, which has been the healing center of various civilizations for centuries, are now being used in the treatment of many diseases. Hot spring waters are healing rheumatic and metabolic diseases with diseases such as digestive system, liver, bile duct, kidney and urinary tract diseases, orthopedic operations, skin diseases, psychological diseases, gynecological diseases and functional disorders.
Termal, which was under the influence of different cultures in the past periods, became very interested and gained importance especially during the period of Romans.  Known as the result of a major earthquake in 2000 B.C. , thermal baths have been shown as  power baths in PYTHIA THERMA _Pythia from the 6th century B.C. The reason for this was  people believed that  the steam and hot water in the slit belong to an underground god. In particular, Life elixir, spa baths, which were used as youth vaccines, were first built by King Constantinus and restored in the time of Justinianos.
Spring Center became important again during the reign of Sultan Abdülhamit and took its final shape in the period of Great Leader Atatürk. Atatürk gave great importance to Termal and came to Termal frequently for rest. Thermal has maintained its importance as a health and relaxation center in every period of its history.
KURSUNLU HAMAM
It was built by the Byzantine Emperor Iustinianos 16 Centuries ago . The Kurşunlu Hamam, which had been buried to the ground due to disasters and wars, was repaired in 1900 by the order of the Ottoman Sultan Abdülhamit. The bath was named Kursunlu Hamam because it was covered with lead. There is an inscription written in Ottoman on marble on the outer ceiling of the canyon.
The Bath of Valide was built in the period of Constantinus, the Byzantine King, with six domes. There are still 3 domes. It was repaired by Sultan Mecid during the Ottoman period and his mother took the name of the bath of Valide because she was treated here.
Transportation
Thermal Springs are only 12 km away from Yalova Center by asphalt road.
SUDUSEN WATERFALL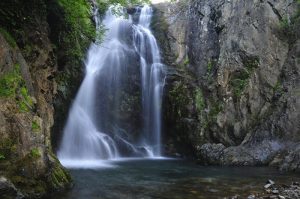 From Thermal District, 8 km away from Üvezpınar Village, Suduşen Waterfall and the surrounding area offer a magnificent feast for nature lovers. The road leading to the waterfall is a comfortable and natural hiking trail, and it is heavily favored by local and foreign tourists in the summer months. When you go to the waterfall you will encounter a unique dam, a view of Marmara Sea and a wide variety of forest faunas.
Transportation
It is 8 km to Termal District and 20 km to Yalova Center.
KARACA ARBORETUMA
Karaca Arboretuma was founded and built on 13.5 hectares of land by Hayrettin Karaca. Today there are about 7000 different plant species,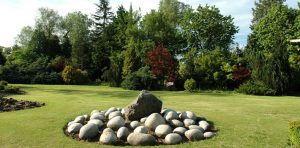 subspecies, varieties and culture forms. Karaca Arboretum is Turkey's first private Arboretum. The remarkable collections include many important species and culture forms of Acer, Prunus, Malas, Magnolia, Quercus, Betula, Pinus, Big Brother, Picea.
Transportation
It is 3 km from Yalova Center.
DOUBLE WATERFALL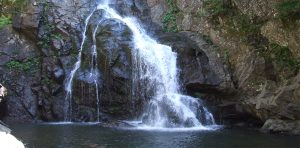 It is located in Çınarcık District, on the road leading to Delmece Highland from Teşvikiye Town. Erikli Waterfalls is a great place for those who want to camp and trekking with their unique natural beauties.
Transportation
29 km from Yalova. The road is completely paved.
DELMECE PLATEAU
Yalova's most well-known plateaus are the Erikli and Delmece Plateaus located to the south of Kocadere and Teşvikiye borders. There is a drinking water source known as "Medicinal Water" as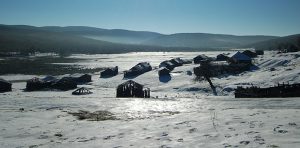 well as nature wonder where there are various trees of pine, oak, chestnut and linden trees, a deep crater lake known as "Bottomless Lake".  Delmece Plateau Natural Walking Park located in the town of Teşvikiye is also very interesting in terms of providing you with the options you can reach by experiencing different natural beauties.
Transportation
Delmece Plateau It has unique natural beauties that cover the area of ​​a very large plain with a paved road all within 17 km from the beach and exit from the Teşvikiye Beldesi in Çınarcık District.